Wildlife Research Trails End Attractor Whitetail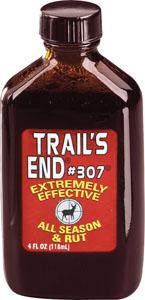 Wildlife Research Trails End Attractor Whitetail 1 oz
Trails End is a complex blend of natural ingredients developed through years of extensive testing. It contains a unique blend of natural doe in heat urine and special, highly effective hunger and curiosity ingredients.
Hot Scrape, Doe in Estrus, Active Scrape, are all special quality natural secretion scents that have also earned the reputation of being a real performers.
Grunt n lure is the lure to use with a grunt call. Bucks responding to a grunt call frequently come in from downwind and analyze the smells to decide if the grunt situation is real.
Hot musk is a unique mixture of secret musk scents, blended together to create a highly effective buck lure that is also irresistible to does.
Buck nip is an intense curiosity scent. It is to a deer like cat-nip is to a cat. Really attracts bucks early-season and works great all season long. Buck-Nip does not contain urine.
Buck fire is the highest quality natural doe in heat urine. It contains strong, natural pheromones laced with a rare ingredient that heightens intensity.
#1 Select Estrus are natural doe in estrus urine drippings with a touch of musk added that makes it even hotter. It is very effective during the rut.
Special golden estrus is a super fresh, premium Whitetail doe in estrus urine collected, bottled and dated; then shipped to you at the height of its potency.
Excite is a super thick & extra concentrated Whitetail doe in estrus scent. It's the smell Whitetail bucks have been waiting for.
Select doe urine is the perfect lure for non-rut hunting. A mild, non-threatening territorial attractor, this lure contains non estrus doe urine that masks human scent, appeals to the curiosity instinct of the buck and then acts as a calming agent to reduce fear.
Mega tarsal-plus is the best territorial intrusion scent available. Made with tarsal musk and urine drippings, a very secret, special musk was also added that really gets the dominant buck going.
Moon fire is a favored secret formula that is formulated without urine or deer by-products.
Item Info
| | |
| --- | --- |
| Item | Available In Store |
| UPC | 024641003077 |
| Brand | Wildlife Research Center |
| Model | 307 |
Tech Specs
| | |
| --- | --- |
| Type | Attractor |
| Species | Whitetail |
| Volume | 1 oz |
| Quantity | 1 |
| Purpose | Attract |
| Series | Deer Lures |